Cruise Master Mission
To support and encourage first responders by providing beautiful awards that honor their dedication and years of selfless service. We want to be the company that you turn to when you want to give the very best when you need the "Wow" factor. We understand that many customers, without even knowing us, trust us to create a unique gift for their one-of-a-kind recipient. We don't take that responsibility lightly.

We've dedicated ourselves to excellent customer service. We firmly believe in treating our customers the way we would like to be treated and because of this belief, to date, most of our sales have come through the "word of mouth" of our customers.
Jerry's Legacy
Jerry was born into a family whose legacy in the Sublimity area had begun in the mid-1850s. At age 5, Jerry's life-long love of the fire service began when he had the opportunity to sit on a fire engine and blow the siren of the first engine the Sublimity Fire District acquired in 1949. While Jerry dreamed of fire engines, his mother encouraged him to become a dentist. During the fall of 1959, Sublimity Fire District sent letters to the community recruiting volunteers. Jerry wanted to sign up, but because of his age, his parents had to give written permission and transport him back and forth to the fire station. Jerry would frequently sit at the station and take emergency calls—after all, someone had to answer the "Fire Phone."

Jerry's passion for the fire service opened a variety of doors and at age 17, he became Sublimity Fire District's Training Officer. In the fall of 1962, he lived in a Corvallis fire station as a student firefighter while attending OSU. After this in the fall of 1965, Jerry taught fire science classes for the State of Oregon Vocational Ed Department and Salem Tech (now Chemeketa Community College) while working as a firefighter in Marion County. During a visit with some of his old students at Tualatin Fire District in 1968, Jerry was offered and accepted a position as Battalion Chief in charge of training and continued teaching part-time at Portland Community College.

Jerry and Colleen were married June 1972. Following the birth of their two daughters, Jerry resigned his position as Battalion Chief, and the family moved back to the Heater family farm where they built a home and purchased a small business, Cruise Master Prisms Inc. where they manufactured optical prisms for foresters cruising timber in the U.S., Canada, and overseas. It wasn't more than a few years later when the timber industry drastically changed. While he continued to produce prisms, Jerry searched for additional entrepreneurial ideas to stabilize the company's income to provide for his family.

The idea that seemed to be a natural fit, came from Jerry's passion for the fire service and his desire to recognize hard work, commitment and dedication to the community, and thank those willing to give their lives in public service. And so… Cruise Master Engraving was born as an extension of the parent company.

Our earliest customers were local and in the state of Oregon. It was through Jerry's fire service career as a Chief officer, his connections with students as a fire science instructor, and his other fire association affiliations that enhanced our ability to serve agencies across the U.S. and Canada; and we have had the opportunity to ship to customers in a variety of countries all over the world.

Jerry always put his family first, but we all knew his fire service family was a close second. Cruise Master was Jerry's day job until the fire bell rang. Jerry remained active in the Sublimity Fire District,  volunteered with the Oregon Fire Chiefs Foundation, was a life member of the Oregon Fire Chiefs Association, President of the Oregon Fire Museum, and founding member of the Northwest Fire Equipment Dealers Association until his untimely death in the fall of 2010. In the end, Jerry commitment to fire service lasted 52 years.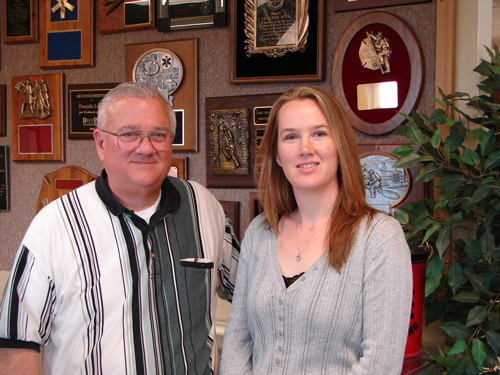 Susan
I started working in the family business like any other child of a business owner, at a young age. While riding, caring for and showing horses all over which I started at just five years old. While in high school and college I worked in the office. After college, I left the business in pursuit of other opportunities.

In 2005 I returned to work alongside my Dad after starting a family of my own. I had the privilege of working with him for just five years before his passing in 2010. Now I continue to honor my Dad's legacy by supporting and keeping our business focus on all first responders; Fire, EMS and Law Enforcement.
 
Dad always considered our customers' friends, a enjoyed attending all the conferences, he seemed to know everyone. Now that responsibility has shifted to me. While I am more of a behind-the-scenes kinda person. I now look forward to each and every show we attend, connecting with "old" friends and getting to know the new faces in the industry. I've really enjoyed getting to know each of our customers and meeting you all face to face.

When I'm not in the office or at trade shows I enjoy supporting my kids, Grace, and Isaiah, in their many activities. Soccer, football, swimming, drama, golf, dog shows, and livestock shows. Of course, I still find time to ride horses. Both of my kids have followed in my footsteps and have grown up working in the office with me until they went out into the world and got jobs elsewhere. I'm so proud of the hardworking young adults they have become.